Hey there,
This post was actually not pre-planned. It came into my mind when I stuck with downloading a ~2 GB zip data for one of the new service in my website. I failed downloading the whole file twice. I've used Firefox to download, First time, 1.7 GB of zip data was completed before it got failed. But I could see a file with .part extension in the downloaded folder. Normally if there is any part file in the folder & If we restart the downloading Firefox will resume (I don't know much about how other browsers behave) the process. So I just tried the same but that didn't work for me. So the only option in that time was just to download the same file again. I had to download because there was no alternative option in my mind. I just started downloading but Boom! unluckily that time also downloading got failed. In the latest progress, the partially downloaded file size was ~1.8GB.
I got disappointed fully because I didn't have any other option to extract the files required for my task. I've one .zip.part file in my directory (I had deleted the previous .part file), I just renamed this .zip.part file into .zip & tried to extract but I got the message 'The archive is either in unknown format or damaged'. So I just started searching 'How to repair damaged zip/rar files' & I got various tools But truly none of them really worked for me. Some tools were paid versions (Eg. ZipRecover, Zip Repair Pro) so these were just asking me to enter Serial Key (Registration Code) & some were free (diskinternals zip-repair) but none of them really helped me. Finally I've got one info from one of the blog that WinRAR Utility itself has built-in function to repair corrupted/damaged zip/rar files. So I didn't waste much time, Just Opened the WinRAR program, selected my renamed (.part.zip to .zip) zip file & Clicked Repair option. That was enough because I got all the necessary files required for my service from the corrupted (uncompleted) zip file. Thanks to WinRar..:)
How to repair damaged/corrupted zip/rar files using WinRar
Open WinRar Program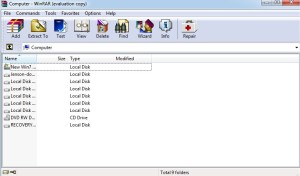 Locate your directory & select corrupted zip/rar file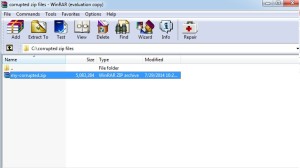 Go to Tools–>Repair archive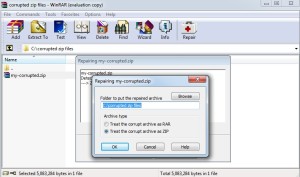 Choose options accordingly. Click Ok. Your repaired zip will be generated on the specified folder That's it.
Share this. Cheers..:)